Description
The Collaborative Methodologies in Education Course is an innovative and inspiring journey designed for educators and education professionals interested in enhancing their pedagogical practices and strengthening collaborative learning in the classroom. In this course, we will explore contemporary pedagogical approaches that promote cooperation, creativity, and critical thinking among students. Through a combination of theory and practice, participants will be empowered to integrate collaborative strategies into their teaching methodologies, enabling the development of essential 21st-century skills such as teamwork, problem-solving, and effective communication.
For further information: avoltaesousa@formarte.pt
Pre – Registration here:
Porto was voted the best European tourist destination city in 2022 by the World Travel Awards.
Objectives
Understand the Fundamentals: Empower participants to grasp the theoretical and conceptual principles of collaborative methodologies in education, recognizing their significance for developing students' socioemotional and cognitive skills.
Integrate Collaborative Strategies: Provide educators with the ability to effectively integrate collaborative methodologies into their teaching practices, fostering a participative and inclusive learning environment.
Foster Creativity and Innovation: Stimulate creativity among both educators and students, encouraging the pursuit of innovative solutions and collective knowledge construction.
Develop Teamwork Skills: Enable participants to apply techniques that encourage cooperation among students, promoting teamwork and mutual collaboration.
Promote Effective Communication: Improve educators' communication skills so they can establish an open and constructive dialogue with students, creating an environment of trust and empathy.
Address Educational Challenges: Empower educators to face common challenges in the classroom, providing them with tools to address different levels of learning, interests, and abilities.
Apply Collaborative Technologies: Demonstrate the proper use of technological tools that facilitate collaboration among students, enabling them to create joint projects and share knowledge interactively.
Encourage Student Autonomy: Foster student autonomy by promoting pedagogical approaches that value their ideas and allow them to take an active role in the learning process.
Implement Formative Assessment: Teach evaluative practices that value the learning process and continuous growth of students, providing constructive feedback for improving their skills.
Generate Positive Learning Impact: Aspire for educators, through the application of collaborative methodologies, to perceive a positive impact on student engagement, motivation to learn, and academic achievements.
Promote Inclusion and Diversity: Encourage the construction of inclusive educational environments where differences are valued and respected, fostering a culture of equality and diversity.
Stimulate Reflection and Continuous Practice: Motivate educators to constantly reflect on their pedagogical practices, seeking improvement and the incorporation of new collaborative approaches throughout their careers.
Fundamentals of Collaborative Methodologies: An overview of the principles and theories that underpin collaborative methodologies in education.
Collaborative Tools and Resources: Exploration of various digital tools and resources that facilitate collaboration among students and encourage active participation.
Design of Collaborative Activities: Learning how to plan and create pedagogical activities that promote group work, idea-sharing, and collective knowledge-building.
Management of Collaborative Groups: Strategies to foster cooperation in the classroom, manage group dynamics, and address common challenges in implementing collaborative approaches.
Collaborative Assessment: Reflection on assessment practices that value both individual and collective contributions of students, ensuring equity and recognition of diverse abilities.
Course Program
Day 1: Sunday – Welcoming
Course presentation and training objectives.
Individual orientation and information about the venue and country
Round up presentation and networking between all participants.
Day 2: Monday
Course presentation and training objectives.
Fundamentals of collaboration and collaborative learning.
Integration dynamics to promote teamwork.
Day 3: Tuesday
Collaborative Project-Based Learning.
Structuring and planning collaborative projects.
Examples of successful collaborative projects.
Practical activity: developing a collaborative project in groups.
Day 4: Wednesday
Technologies and Tools of Collaboration
Use of digital platforms and applications to facilitate collaboration between students and educators
Exploration of resources for sharing ideas and creating collective content.
Practical activity: experimenting with collaborative tools.
Day 5: Thursday
Effective Communication and Teamwork.
Developing teamwork skills.
Improving interpersonal communication to facilitate collaboration.
Practical activity: Dynamics to enhance communication within teams.
Day 6: Friday
Inclusion and Diversity in Collaborative Education.
Adapting collaborative practices to meet the needs of diverse students.
Creating inclusive and respectful learning environments.
Day 7: Saturday
Course evaluation.
Releasing official course certifications.
Participants departure.
Cultural visits will be also part of the program.
Pre-registration on this link:
Target Audience
Teachers from various educational fields, educators, artists, and all those interested in the topics covered.
The course will only occur with a minimum of 8 participants.
If in your organization you have a group of 8 people interested in taking the course, we can schedule different dates for you all.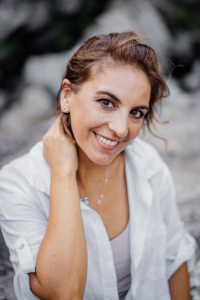 Andreia Volta e Sousa
Born in Porto, she holds a Master's degree in Music Teaching from the University of Aveiro, having developed work in the areas of creativity and motivation arising from innovative strategies in specialized music teaching.
She graduated in Theater Singing from the Conservatório Superior de Música de Vila Nova de Gaia, in the class of Professor Fernanda Correia, with a high classification.
She began her singing studies in 1999, at the Paços de Brandão Academy of Music, in the class of Professor João Carlos Soares.
She has performed solo with the orchestras Filarmonia de Gaia and ESPROARTE, performing several works by A. Vivaldi, W. A. Mozart, G. Pergolesi, A. Scarlatti, R. Strauss, G. Mahler and H. Wolf.
She premiered, in 2007, "Mistérios do Rosário", a compilation of works by Portuguese composers such as Eugénio Amorim, Rui Soares da Costa, Fernando Valente and Fernando Lapa.
She has participated in operas such as "The Magic Flute", by Mozart; "Irene", by Alfred Keil; "The Merry Widow" by Franz Léhar and "Ahmal and the night visitors" by Menotti. She was Sylviane in the opera "The Merry Widow" by Franz Léhar, and Sam – the little chimney sweep – in the opera "The Little Chimney Sweep" by Benjamin Britten.
She was a member of the Contemporary Vocal Music Group under the guidance of Maestro Mário Mateus, with whom she participated in the XIV, XV and XVI International Music Festival of Gaia, where, among others, she performed "Sonnengesang – The canticle of the sun", by Sofia Gubaidulina, "Adagio" by S. Barber, "Jephte" by Carissimi, "Stabat Mater" and "Magnificat" by Arvö Part.
He has worked with the conductors Mário Mateus, António Saiote, Artur Pinho, Cesário Costa, Adam Klocek, among others.
He regularly participates in MasterClasses with Brian Gill, Laura Sartti, Enza Ferrari, among others.
She concluded the 5th degree of Transversal Flute under the orientation of Prof. Carla Cabral.
She also has a degree in Management from the Portuguese Catholic University in Porto.