Description
More information soon.
Objectives
More information soon.
Course Contents
More information soon.
Methodology
More information soon.
Target Audience
More information soon.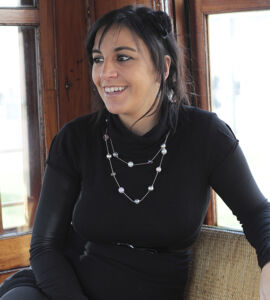 Andreia Volta e Sousa
Born in Porto, she holds a Master's degree in Music Teaching from the University of Aveiro, having developed work in the areas of creativity and motivation arising from innovative strategies in specialized music teaching.
She graduated in Theater Singing from the Conservatório Superior de Música de Vila Nova de Gaia, in the class of Professor Fernanda Correia, with a high classification.
She began her singing studies in 1999, at the Paços de Brandão Academy of Music, in the class of Professor João Carlos Soares.
She has performed solo with the orchestras Filarmonia de Gaia and ESPROARTE, performing several works by A. Vivaldi, W. A. Mozart, G. Pergolesi, A. Scarlatti, R. Strauss, G. Mahler and H. Wolf.
She premiered, in 2007, "Mistérios do Rosário", a compilation of works by Portuguese composers such as Eugénio Amorim, Rui Soares da Costa, Fernando Valente and Fernando Lapa.
She has participated in operas such as "The Magic Flute", by Mozart; "Irene", by Alfred Keil; "The Merry Widow" by Franz Léhar and "Ahmal and the night visitors" by Menotti. She was Sylviane in the opera "The Merry Widow" by Franz Léhar, and Sam – the little chimney sweep – in the opera "The Little Chimney Sweep" by Benjamin Britten.
She was a member of the Contemporary Vocal Music Group under the guidance of Maestro Mário Mateus, with whom she participated in the XIV, XV and XVI International Music Festival of Gaia, where, among others, she performed "Sonnengesang – The canticle of the sun", by Sofia Gubaidulina, "Adagio" by S. Barber, "Jephte" by Carissimi, "Stabat Mater" and "Magnificat" by Arvö Part.
He has worked with the conductors Mário Mateus, António Saiote, Artur Pinho, Cesário Costa, Adam Klocek, among others.
He regularly participates in MasterClasses with Brian Gill, Laura Sartti, Enza Ferrari, among others.
She concluded the 5th degree of Transversal Flute under the orientation of Prof. Carla Cabral.
She also has a degree in Management from the Portuguese Catholic University in Porto.